| | |
| --- | --- |
| Posted by LIFE-HOPE on December 19, 2009 at 9:45 PM | |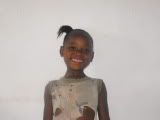 This girl is happy. She is 6 years old and happy. One of the reasons she is happy today is that she can go to school. Her mother passed away a while ago. Things are tough at home. But there is someone in Switzerland who was moved to pay about 100 US dollars to allow her to go to school this year. 100USD! Her happiness also comes from just knowing that there is someone....someone she has never met....who cared enough about her to pay that 100 dollars to allow her to continue at school. Life is good. Life is best we are are all engaging in making it better for everyone. Get engaged. Be informed. Give HOPE.
We might not be able to change the world today, but we can change it for one child today. Go on.... do what you know you can do right now.
www.life-hope.org