| | |
| --- | --- |
| Posted by LIFE-HOPE on May 10, 2011 at 6:38 AM | |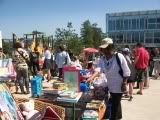 Few weeks ago, i had a fundraising yard sale (Vide grainier in Switzerland) for Life-Hope, i had to line up for almost 45 min to get a table. When it was my turn, the man who was in charge serving the tables pulled the wrong one accidentally and two tables fell one after another, to come landing on my foot.  For few seconds my foot was numb, then followed an atrocious pain. Lucky me, there was a doctor in the crowd. She looked at it, tried to massage it then finally concluded that one of my toes was broken. She wanted me to go home. People felt sorry for me and some Offered ice cubes to soothe the pain.
But what was amazing is that i didn't feel sorry for myself, i was at that location for a cause, i refused to go Home. I spent time collecting those items to sell and organising myself for this event, no broken toe was going to bring me down. The thaught of the orphans i was doing these sales for kept me strong.
All those hours spent there, i swallowed my pain and decided to do what i went there for, because i knew my sores will pay for. The sales went well, i could not forgive myself if i stopped at the moment i got hurt.
I knew that work was going to give a second chance, and some kids, far away, dream will come true.That feels good. That keeps me going.
"Giving unconditionally is a precious gift" 
Aimee.